Keep an eye on success with these powerful reports
Create customized analyses easily and quickly: for online store, website or app - also as email
Our reports are one of the most popular features. We will show you how to use reports and never miss a trend again.
Create a report
As always, use the dashboard to get started with your data:

Then select any combination of filters. Adjust the filters until you are satisfied with the result and have found the most meaningful data possible. If you have never worked with filters before, also take a look at our article lalalytics Filter.
In a simple example, this can be a filter on the source of your visitors, for example:

Once the filter selection has been made, this view can be saved directly as a report. Use the corresponding function, assign a name and save the view: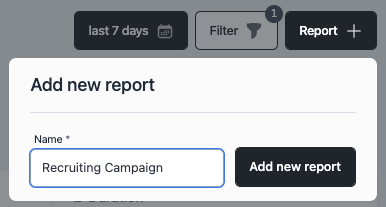 Et voila, the report is saved and can be retrieved at any time with this configuration.
The reports view
When the report was created, the report also got its own URL and you are now in the report view. The menu looks something like this:

You can always return to this view and continue to view it for different periods of time.
Are you the owner of this page? Then you can invite other people to lalalytics and send them this URL. This way you can talk about this data together as a team.
Configure a report
You can access the settings of each report via the Report dropdown menu. The settings briefly explained:

Report modified
This note is not always displayed and appears only when you have modified a report. This usually happens when you add another filter to the report, delete a filter or change a filter.
With one click you can easily apply this change to the report.
E-mail recipients
For many, the email option of a report is especially handy. If you would like to keep other people informed about this report, you can save up to 10 people, who will conveniently receive this report in their mailbox.
The practical thing about this is that these people do not need a lalalytics account. This way you can keep superiors, team members, customers or specialists up to date.
Metrics
You may already know this list of metrics from the Dashboard. You can easily control them per report and thus focus on the really important information.
What is not important for this report is simply hidden.
Interval
Select a time interval in which you want to deliver this report as an email. You can choose between Weekly, Monthly and Quarterly. The report will reach its recipients at these times respectively.
Test mail
Would you like to test a report in advance? No problem, you can have this report sent immediately to your inbox with a test mail.
Danger zone
A report may also need to be deleted at some point. This is possible here.
Summary
You can use reports on your own or in a team—regardless of whether you have lalalytics access or not. Use reports as a basis for improvement. Use all known filters and create exactly the views you need for your success. Monitor defined metrics over time and control your actions. These are reports in lalalytics.